BOOKING NOW FOR

Princess Thimbelina finds happiness by believing  in what her heart tells her to be true.
Hans Christian Andersen narrates his classic fairy tale of Thimbelina, the little girl no bigger than your thumb — so small she could sit atop a thimble.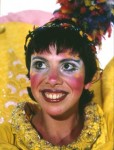 Thimbelina and her menagerie of animal friends are featured in our original musical adaptation. All of the classic characters are in this play: Mumford Mole, the Frog, Angus the Bird, Miss Spider and the Prince of Sunflowers. The production features our trademark GIANT puppets, fanciful costumed characters and live actress Holli Rubin as Princess Thimbelina!
Thimbelina On Tour
Get information or book the show by contacting us.
About the Show
Audience: Age 10 & under
Length: 55 minutes
Localized Opening Vignette: Yes
Post-Show Demonstration: Yes
Arts in Education Component: Yes – Study guides, teacher workshops, student workshops
 Downloads for the Show