Every sponsor of Bits 'N Pieces Puppet Theatre's GIANT puppet productions receives access to our comprehensive Teacher's Guide. They contains pre- and post-show activities and lesson plans for students Pre-K through third grade. Every year our guides are updated and refined with the help of teachers using our materials in the classroom.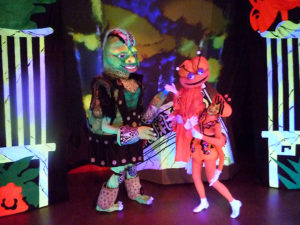 Aesop's Dinosaur Fable is a mammoth musical featuring nine-foot-tall, dancing, glow-in-the-dark puppets, live actress wee TryANTasaurus, and animated puppet projections.  Based on "The Ant and the Grasshopper," the Farmer Ant's Almanac predicts an ICE STORM blowing their way. Soon it's going to snow and snow and snow. Stage magic and imagination transform the classic story into a musical fable for today.
Actress and puppet builder Holli Rubin performs as wee TryANTasaurus, hardest worker in the forest.  Puppeteer and lyricist Jerry Bickel performs as the happy-footed giant green dinosaur.
The musical was inspired by the theater troupe's cultural exchange projects in Trinidad. Cool classic Greek and hot Island motifs mix in the music, dance and design of the show. Audiences in Japan, Czech Republic, Taiwan and the US have laughed, clapped and shared a whole lava love for Aesop's Dinosaur Fable.
What's Included
Story, background and genre information for the production your class attends
Activities and lesson plans ready for use in the classroom
Step-by-step, illustrated puppet-making guide for teachers
Sunshine State teaching benchmarks
Stage Tech Requirements
Images
Here is a collection of photos and line art available for our upcoming performance. Thinking of a signature design element? Think Lava Lamps. We'll be using lots of lava projections in the stage setting.
(Images, when clicked, will open in a new window. Right click to download.)