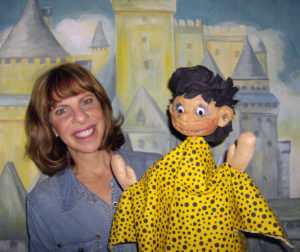 Arts-In-Education residencies can be scheduled in conjunction with any of our performances. Holli Rubin, our A.I.E. specialist, offers
workshops,
puppet demonstrations, and
teachers' in-service training sessions.
In most residencies Ms. Rubin presents a combination of these three options. The typical day begins with a school-wide assembly in which she demonstrates different types of puppets from around the world. After the assembly, Ms. Rubin conducts three puppet-making workshops. Each activity is approximately one-hour long.
---
Puppet-Making for Elementary Schools
For young children (preK-2nd grade) the workshop activities develop motor, language, and social skills, and increase confidence. For older children (3rd-5th grade), the workshop also emphasizes the nationally recognized teaching objectives of our program. Teachers' in-service training sessions include the workshop with additional information on simple puppetry, easy staging, and curriculum integration.
Feather-Top "CATS" Rod Puppet Workshop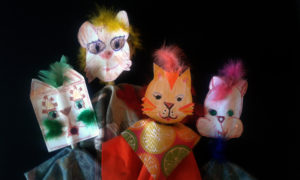 Carnival is the inspiration for these bright, sparkling rod puppets. This one-hour workshop is filled with glitter, sequins, fabric and feathers. All materials for puppet building are provided. Once built, the puppets are brought to life using creative dramatics techniques for classroom enjoyment. It's fun for any age and everyone leaves with their magical friend.
Capacity: 30 students optimum
Contact us by email, phone or snail mail.
Email now: Jerry@PuppetWorld.com
---
International Puppetry
Demonstration & Lecture
The program celebrates diversity as it teaches tolerance.
It's a Puppet World!
This trip around the world introduces puppets and the cultures that make them. Puppetry's historical development is traced from caves to the movies, from tiny finger puppets to our own giant puppets. Ms. Rubin performs mini-vignettes with two dozen puppets from countries ranging from Java to the Czech Republic. After each vignette the puppets are exhibited and discussed. Bits 'N Pieces' giant puppets are explored from construction to curtain call.
Attendance: Variable, small groups to 200
Contact us by email, phone or snail mail.
Email now: Jerry@PuppetWorld.com
---
Available in Tampa Bay, West Central Florida
Puppet Workshops and Camps
It's a Puppet World!
Feather-Top Rod Puppet Workshop
Summer Programs (variable lengths)
All workshops are designed and led by Arts-In-Education Specialist Holli Rubin. Workshops and camps include all materials, which are provided by Bits 'N Pieces Puppet Theatre. Call 813-659-0659 for more information or to reserve dates.
Attendance: Variable, small groups to 200
Contact us by email, phone or snail mail.
Email now: Jerry@PuppetWorld.com
---